This page may contain spoilers with plot and/or ending details about stories which may not have yet been published or broadcast.
Colossus
Real Name
Peter Rasputin
Current Alias
Colossus
Gender
Male
Species
Mutant
Alignment
Good
Occupation
Teacher
Affiliation
X-Men
Location
X-Mansion
Status
Alive
First appearance
X-Men: Days of Future Past
Portrayed by
Daniel Cudmore
Andre Tricoteux
Biography
Powers and Abilities
Powers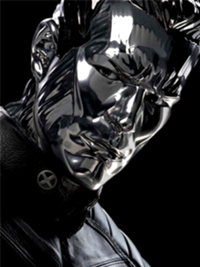 Organic Steel Transformation: Colossus is able to turn his entire body into a sort of organic steel, granting him tremendous strength and durability. He was also partially immune to Rogue's powers because he was able to use his powers after Rogue stole them.
Abilities
Colossus is an excellent artist
Paraphernalia
Transportation
X-Jet
Appearances
X-Men
Single
Ad blocker interference detected!
Wikia is a free-to-use site that makes money from advertising. We have a modified experience for viewers using ad blockers

Wikia is not accessible if you've made further modifications. Remove the custom ad blocker rule(s) and the page will load as expected.